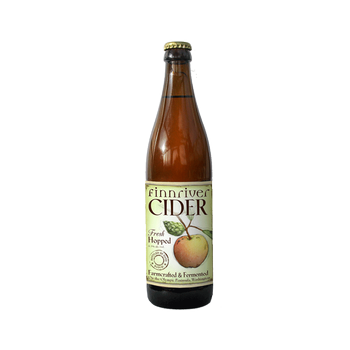 Fresh Hopped 500ml
STYLE: Fresh hop infused
AROMA & FLAVOR: Green, in apple and vegetation with hints of citrus peel. Bright acidity zings the balance of bitter citrus and greenery to settle on hints of spicy, earthy hops.
APPLE VARIETIES: Organic WA apples, organic Chinook, Comet, Cascade, and Zeus hops from, Mountains to Sea Farm in Sequim WA
CIDERMAKER NOTES: We sourced from a new grower for us this year, providing a delightful selection of comet hops grown in the rain shadow of the Olympic Mountains. This cider is a marker of the seasonal change and a power pack of hoppy goodness.
SERVING SUGGESTIONS: By the pint in your favorite pub. With sweet potato fries, grilled oysters, or a bratwurst fresh off the grill.
SWEETNESS: s.g. 1.001 dry, brut
ALCOHOL PERCENTAGE: 6.5%
VOLUME: 500 ml