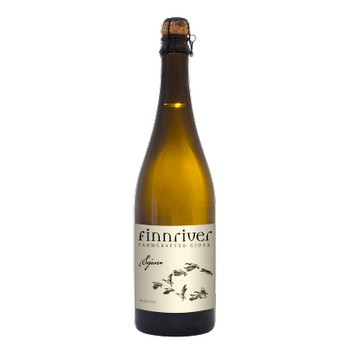 Sojourn - Vista Ridge 750ml
STYLE: Vintage place-based cider
AROMA & FLAVOR: Heady notes of baked fruit and spicy leather, a touch of wet fall leaf litter leads the acid into place. The completion of the baked apple leather combination melds with quality bittersweet cider in a very French tasting cider.
APPLE VARIETIES: 22 varieties of bittersweet and bittersharp apple from Vista Ridge Orchards
CIDERMAKER NOTES: The taste of place. This cider is one hillside, 20 miles south of Finnriver. The well-loved trees are harvested each year and the whole harvest is fermented and blended together during the winter. Once brought into condition, the cider is bottled and allowed to calm down in the bottle for a few months. An example of a low-intervention fermentation and an opportunity to let the land show through the glass, Vista Ridge is an honor to craft each year as the harvest varies and the cider varies the story being told is a unique voice. A single place.
SERVING SUGGESTIONS: Serve with food, with root vegetables and brussel sprouts, with pork belly and mashed garlic potatoes. Super friendly to the fall and winter table, this is quintessential cider.
SWEETNESS: 1.004 semi dry
ALCOHOL PERCENTAGE: 9
BOTTLE VOLUME: 750ml
VINTAGE: 2021
ARTWORK: Jesse Watson