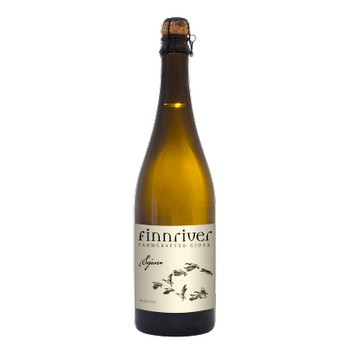 Sojourn - Vista Ridge 750ml
STYLE: Bittersweet
AROMA & FLAVOR: Offers a deep sense of leather and apples, with baking spice and warm fruit and a mouth-filling tannic chewiness that finishes dry.
APPLE VARIETIES: A robust list of traditional cider apples grown (such as Ellis Bitter, Amere de Berthcort, Reine des Pommes) and mindfully tended by our friends at Vista Ridge Orchard in Quilcene, WA.
CIDERMAKER NOTES: This cider is the first of our 'traveling,' estate-based bottles that feature cider apples grown at local orchards we love. The apples in this release come from a single orchard in Quilcene, WA called Vista Ridge and this fermentation features their first significant harvest of bittersweets and bittersharps. With indigenous yeast naturally present in the fruit, and a bottle conditioned bubble, this cider is a superb taste of place and of the elements of the Olympic Peninsula.
SERVING SUGGESTIONS: A delightful food cider, dry and expressive on its own, Vista Ridge finds good company in creamy, sweeter cheeses, salami, sausages, and other aged meats. A special treat with a clam linguine, or a perfect compliment to a fresh rolled falafel sandwich.
SWEETNESS: Off-Dry 1.003
ALCOHOL PERCENTAGE: 9% abv
BOTTLE VOLUME: 750 ml.
ARTWORK: Cougar George
VINTAGE: 2019
RELEASE DATE: Spring 2020