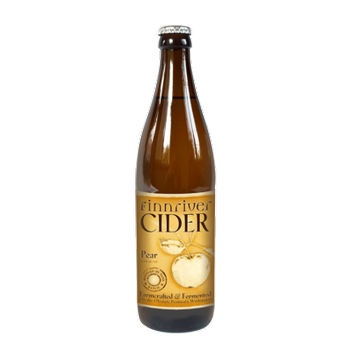 Pear 500ml
STYLE: Contemporary Craft Cider
AROMA & FLAVOR: Bright apple fruit with the elegant sweetness and subtle delights of the pear. A tree-ripened, delicate and refreshing taste of the orchard.

APPLE VARIETIES: Organic Washington dessert apples, featuring seasonal varieties such as Granny Smith, Pink Lady, Braeburn and Gala.

CIDERMAKER NOTES: Small batch production year-round featuring cider fermented on the farm using 100% organic apple juice pressed from Washington apples. We ferment the apple juice, then sweeten with organic pear for additional depth, sweetness and flavor. Lightly carbonated. Contains no gluten ingredients.
SERVING SUGGESTIONS: Serve chilled in the glass of your choice. Pear cider pairs well with pungent cheese, salmon, poultry, pork and pie. Enjoy as an apéritif before a meal, with your plate for graceful palate cleansing, or after dinner as a dessert cocktail. A wonderful cider for any occasion.
SWEETNESS: Sweet
ALCOHOL PERCENTAGE: 6.5% abv.
BOTTLE VOLUME: 500 ml. (16.9 oz.)
ARTWORK: Anna Daeuble