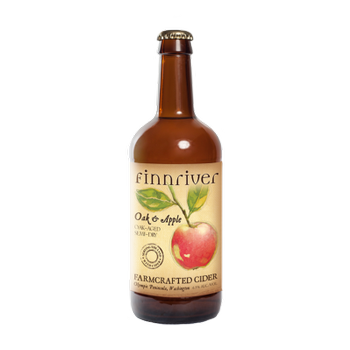 Oak and Apple 500ml
STYLE: Barrel-Aged Craft Cider
AROMA & FLAVOR: A foundation of bright citrus in this cider is layered with a smooth whiskey depth and spicy rye spirit. A fine, craft cider that showcases American oak, Northwest rye whiskey, and Washington organic apples. Woody astringency balances the acidity, and then finishes with lovely toasted oak and vanilla notes.
APPLE VARIETIES: A select blend of Certified Organic Washington apples from the Yakima Valley.
CIDERMAKER NOTES: Fermented in stainless steel tanks at low temperatures to capture the full ester profile of the apples. Once fermentation is complete, this cider is then aged for 12 to 15 weeks in whiskey barrels from Woodinville Whiskey in Washington and High West Distillery in Park City, Utah. The oak gives the cider a liquid gold color. Sweetened with organic cane sugar.
SERVING SUGGESTIONS: Sip as a stand-alone beverage while watching the sunset or savor its complexity around the campfire.Pair with heartier foods like roasted chicken & veggies, stewed rabbit, smoked salmon, or bratwurst with kraut and stoneground mustard.
SWEETNESS: Semi-dry, 1.005 (1.3% brix)
ALCOHOL PERCENTAGE: 6.5% abv
BOTTLE VOLUME: 500 ml. (16.9 oz.)
ARTWORK: Anna Daeuble