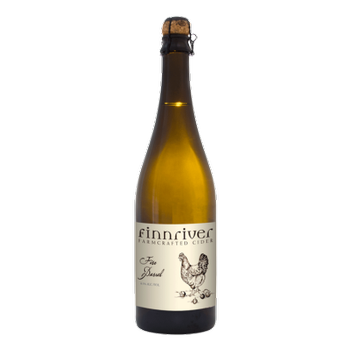 Fire Barrel 750ml
STYLE: Bittersweet barrel-aged
AROMA & FLAVOR: Vaporous woody spice leads the nose into a caramel cream soda with a light and gently acid mid-palate followed with the classic bittersweet apple tannin closure- bitter, leather, astringent, with a phenolic out-breath.
APPLE VARIETIES: 100% Finnriver Orchard organically grown cider apples such as Chisel Jersey, Brown Snout, Harry Master's Jersey, Medaille d'Or, Frequin Rouge, Nehou and Yarlington Mill.
CIDERMAKER NOTES: This cider is fermented slowly through the winter. Cool temperatures allow for development of robust esters. The apples themselves are potent with tannins/polyphenols and they bring a depth and quality to this ferment different from the others in our cidery. The notes of leather, and dark fruit, and spicy heat are archetypal of these varieties of apples. When met with the rounding influence of the oak barrels the cider finds balance and shape. Melding with the warm and caramel whiskey notes. Aged from December to May in barrels.
SERVING SUGGESTIONS: After chilling, allow the cider to warm slightly and serve; we favor Fire Barrel in a Belgian style tulip glass. Try it with roasted pork, cured meats, smoked cheeses or any other hearty, savory fare.
SWEETNESS: Semi-Dry, S.G. 1.006
ALCOHOL PERCENTAGE: 9.5% abv
BOTTLE VOLUME: 750 ml.
ARTWORK: Jenny Grout
VINTAGE: 2018
RELEASE DATE: 2019