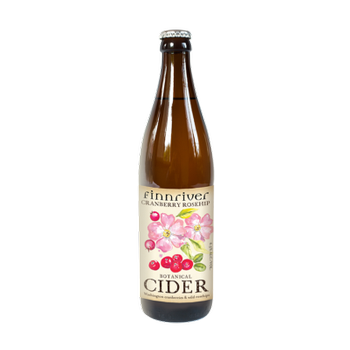 Cranberry Rosehip 500ml
STYLE: Botanical Craft Cider
AROMA & FLAVOR: Bright apple fruit with tart cranberry infusion, a rosy blush and an herbal, bittersweet finish from the rosehips.
APPLE VARIETIES: Fermented on the farm with a select blend of Certified Organic Washington dessert apples, featuring seasonal varieties such as Granny Smith, Pink Lady, Braeburn & Gala.
CIDERMAKER NOTES: Our botanical ciders share the earthy essence of life in the fields and forests of the Olympic Peninsula. Small batch seasonal production featuring cider fermented to dry and then blended with the juice we press from transitional and sustainably grown organic cranberries from Washington coast's Starvation Alley Farm. We then add an infusion of wild rosehips gathered from woods and hedges around the Peninsula. Sweetened with unrefined organic cane sugar for added depth and balance. Lightly carbonated. Made without gluten ingredients.
SERVING SUGGESTIONS: This is a festive holiday cider. Enjoy with your Thanksgiving turkey and roasted vegetables. Add cranberry juice and vodka for a crimson cocktail to toast the season!
SWEETNESS: Semi-sweet
ALCOHOL PERCENTAGE: 6.5% abv
BOTTLE VOLUME: 500 ml. (16.9 oz.)
ARTWORK: Anna Daeuble