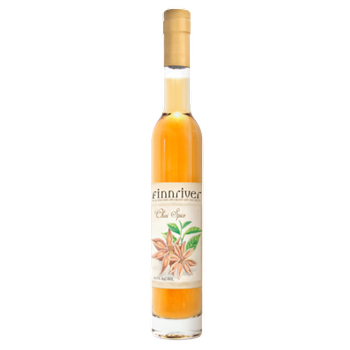 Chai Spice Brandywine 375ml
STYLE: Brandy Dessert Wine
AROMA & FLAVOR: A rich tone of anise, cinnamon, clove, spicy ginger and gentle cardamom, racing through the mouth with the brandy heat.
FRUIT VARIETIES: Brandy is distilled from cider made with organic Washington dessert apples, primarily high-acid varieties such as heirloom Granny Smith. Hand-blended organic chai mix from Chico Chai in Chico, CA.
CIDERMAKER NOTES: A powerful extraction of the oily components of the chai bring a luscious, sensory filling experience to any occasion.
SERVING SUGGESTIONS: A few ounces in a cordial cup, at room temperature, is a rich delight. Lovely paired with dessert or as dessert itself. Add a splash to sparkling cider or wine for a Kir Royale variation. Drizzle on ice cream, use in baking or mix in a vinaigrette.
SWEETNESS: Dessert Wine
ALCOHOL PERCENTAGE: 18.5% abv
BOTTLE VOLUME: 375 ml.
ARTWORK: Sarah Peller