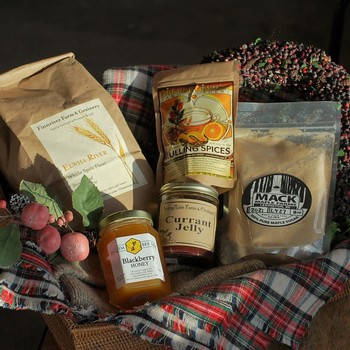 Winter Gift Set
This is a place-based, people-centered effort and so we want to introduce you to our creative partners in the Pantry program. Below you will find a brief background, in their own words, of the folks whose goods are included in this season's Winter Gift Set.
Spring Rain Strawberry Jam: Spring Rain Farm & Orchard is a certified organic family farm located in the heart of Chimacum on 28 acres of prime agricultural land. Our mission is to use the best available knowledge to sustainably and organically produce food for our local community. We sell 100% of our products within a 100 mile radius and work to provide a wide range of healthy, ethically-raised food that meets most nutritional needs. We use a diversified farming system that involves protein, vegetables, fruit, and pollinators to provide the most sustainable system possible. The whole team takes their cue from nature and strives to develop an ecological system that mimics a natural ecosystem.
Finnriver Grainery Organic Elwha River Spelt Flour: Finnriver Grainery grows a variety of heritage and modern Certified Organic grains in the Chimacum Valley on Washington's north Olympic Peninsula. Our organic farmstead flours are whole grain and stone-milled weekly per order by Keith Kisler, a 4th generation Washington wheat farmer. We're committed to increasing access to whole grain nutrition, to building health in our soils and to growing resilience and vitality in our regional foodshed. We grow the majority of our grain, and also source form regional PNW organic farm allies.
To learn more or join the 'Resilience Rising' Flour & Grain Subscription, please visit our website: www.finnriver.com/grain-store
Sequim Bee Farm Blackberry Honey: "Know your beekeeper, trust your honey." Sequim Bee Farm was created with the mission to promote and protect honeybee health and welfare. We believe that the backyard beekeeper will be the guardian of the species. "Our goal is to increase the availability of locally produced honey and bee products to our friends and neighbors on the North Olympic Peninsula – while continuously prioritizing the wellbeing of our girls (the bees)!" Shop their whole collection and learn more at www.sequimbeefarm.com
Mack Maple Farms Maple Sugar: Mack Maple Farm is a family tradition that was established in 1979 on Maple Vista Lane in Lexington Michigan. Our logo depicts the sunrise over Lake Huron shining down the lane. For many years the trees went untapped. Then in spring of 2015 my daughter, Neah, and I flew back home to visit family. My cousin, Branden Mack, had started tapping the maple trees as something to share with his daughter Avery. The girls had such a good time staying up late in the sugar shack keeping warm by the evaporator and sampling the sweetness. That year a family tradition was restored and we have gone back every spring since. It is an honor to share Mack maple syrup with our community in Chimacum, Washington, where people appreciate the value of quality foods.
Finnriver Mulling Spices: A delicious blend of organically grown spices, sustainably sourced by Mountain Rose Herbs. This perfect balance of warming and spicy includes orange peel, all spice, cloves, cinnamon and ginger root.
Time to enjoy your goods! We're imagining you sipping a steaming mug of mulled cider by a crackling fire, or perhaps enjoying your freshly baked Maple Shortbread Cookies (see the recipe we've included) with maple sugar and blackberry honey — and we hope you enjoy the experience of eating, drinking, and using these lovingly created items.
Let us know what you think and send us photos of your pantry experience to orders@finnriver.com. We would love to hear from you…
We are so grateful to share the creative bounty of our community!