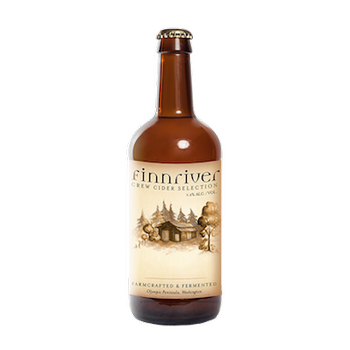 Wildwood Road 500ml
STYLE: Crew Selection
AROMA & FLAVOR: Leading aroma of baked apples, warm fruit and wet leather. Bittersweet cider laced with phenolic depth balanced against a gentle butterscotch, well placed acidity and a lingering chewy finish.

INGREDIENTS: A select blend of Washington organic apples, organic cane sugar.

CIDERMAKER NOTES: This edgy bit of cider is a blend of early season sharps from Vista Ridge Orchards, a touch of bittersweets from Finnriver's own orchard, and a final blend of Hewe's Virgina crab. This cider is very much Olympic Peninsula. Some wild fermented, some cajoled nightly by cidermakers songs into balance - Wildwood Road is a rustic cider with sharpness and bitterness playing off classic cider undertones of leather and spice.

SERVING SUGGESTIONS: Pickled Onions and sharp cheddar, cheeseburger with all the fixing's or a macadamia crusted halibut.

SWEETNESS: Off-Dry 1.005

ALCOHOL PERCENTAGE: 6.5% abv