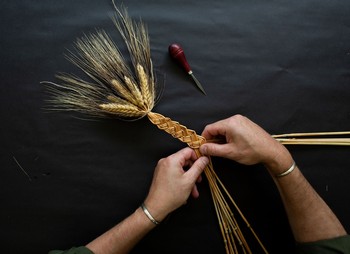 Wheat Weaving Workshop
Farm Tour Weekend: September 17th and 18th
WHEAT WEAVING WORKSHOPS
Join us at Finnriver on Farm Tour Weekend for a hands-on activity to celebrate the harvest season. We will practice traditional crafting as we learn how to create a '12-straw Glory Braid', an old English wheat weaving design used to ward off evil and invite in friends. Wheat weaving is a near global tradition with deep roots in Africa, Europe, Asia, and Latin America. We'll be appreciating local agriculture by using grain grown locally in Chimacum by Keith at Finnriver Grain.
This workshop is offered Saturday 9/17 1:30-3 and Sunday 9/18 1:30-3 at the Finnriver Cider Garden.
To help set the scene for Harvest Home, Carmen will read excerpts from her forthcoming book, The Spirited Kitchen, and share some of the lore and folk magic of the season. The Spirited Kitchen: Recipes & Rituals for the Wheel of the Year, drops Fall 2022 from W.W.Norton.
Carmen Spagnola is an author, podcast host, kitchen witch, and founder of The Numinous Network, an online learning and support portal for people healing from trauma through somatics, attachment, and nature-based spirituality. She is visiting from the ancestral lands of the Lekwungen-speaking peoples, the Songhees and Esquimalt First Nations, recently known as Victoria, BC. Learn more about Carmen at https://www.carmenspagnola.com/. Read more about her upcoming book including pre-sale offerings at https://www.carmenspagnola.com/the-spirited-kitchen