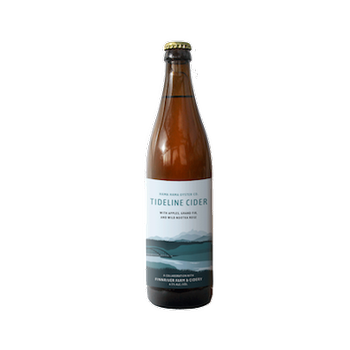 Tideline 500ml
STYLE: Botanical Infusion
FLAVOR: Smells of pine resin and earth. Crisp edgy citrus peel add a grounding, slightly nutty finish from the rose hips.
APPLE VARIETIES & FEATURED INGREDIENTS: Organic golden russet apples, nootka rosehips, Grand fir tips
CIDERMAKER NOTES: This cider is a thoughtful infusion of the Hama Hama hillsides and coastlines. A taste of two communities, trees and cider, flowers and fruit. This is a botany of Hama Hama immersed in the fermentation of Finnriver.
ALCOHOL PERCENTAGE: 6.5%
SWEETNESS: 1.006 off dry
VOLUME: 500 ml