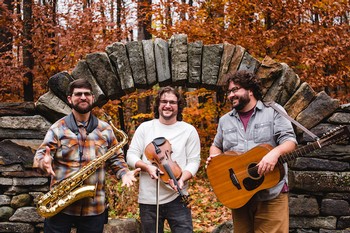 The Faux Paws - Folk / Bluegrass, Sunday June 20th 5-7pm
Folk / Bluegrass
Brothers Andrew and Noah VanNorstrand met up with their brand new friend, multi-instrumentalist and hot sauce connoisseur Chris Miller, for a fateful adventure. They loaded up a borrowed 1989 Volvo station wagon with fiddles, guitars, banjos and saxophones, and headed out on a five-week road trip through the American southeast. Over the next decade, Andrew, Noah and Chris continued to tour all over North America, in various musical iterations, often with the popular dance band Great Bear. Chris spent a lot of time in Louisiana and picked up a Grammy nomination with Cajun-zydeco outfit The Revelers. Now, THE FAUX PAWS are once again striking out on their own with a distinctive sound that bends and blends traditional folk and classic country with driving dancehall rhythms and explosive improvisation.

Chris now lives in Port Hadlock, the brothers are all vaxxed and driving out from the East Coast for this to be their first live in person performance in 18 months!
You can reserve a 3-top ($25), a 4-top ($30), a 5-top ($35), or a 6-top ($40) table. ('Top' refers to number of people per table). Note that the Phase 3 guidelines now in effect do not limit the number of households that can be represented at an individual table.
We have missed having musicians here so much and are delighted to welcome back the good cheer, cultural creativity and vital human energy of live music!
Join Andrew, Noah and Chris on Sunday, June 20th from 5-7pm
Please note:
Cancellation policy - for a full refund, please request cancellation to

orders@finnriver.com

by Sunday 10am.
Special requests? Please click the checkbox "Add special instructions" upon checkout.
If a pre-purchased table is empty 30 minutes after the event has started, Finnriver has the right to resell the table to another person/group.
Weather permitting, we welcome walk-ins at our yard seating at no cost.