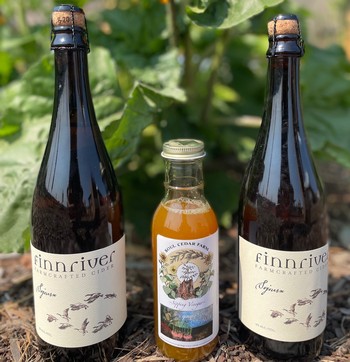 Taste the Quilcenery
Vista Ridge is an idyllic orchard about 20 miles south of Finnriver just outside of Quilcene, WA, Grafted and planted by Karen and Terry the orchard was planted with a balance of Bittersweet and Sharp cider apples - the idea being that the hillside orchard could be captured each year in a bottle, and that bottle would showcase the complexity of high acid and tannic apples.
These are the first two vintages of the Vista Ridge - 2019 harvest and 2020 harvest. They are strikingly different as the annual blend of apples varies, the palette of the cider is expected to wander. We have taken a non-interventionalist approach to the ferments, usually an early season batch and a later harvest batch…then blending to highlight yeast character and balance. Both bottles fermented in the bottle for a fine bubble. The 2019 is tannic and leathery, while the 2020 shows sharp and edgy; both are quite dry. Through this relationship of orchard and cidermaker we are highlighting the top notch cider fruit growing capacity of the Olympic Peninsula, the beautiful collaborative sprit of the community, and depth of the crafting community.
Adding the Blackberry Sage shrub to this set, from our friends Sage Coy and Max Evans, couple and co-owners at SoulCedar! SoulCedar Farm is a small scale, holistic farm located in Quilcene, WA. Sage and Max believe in the importance of nourishing food and of reciprocal relationships between people, plants and land. They grow as much produce for their canned products as possible, and hope to minimize food waste by connecting with other small Olympic Peninsula farms for the rest.
A healthy, versatile sipping vinegar, SoulCedar shrubs use apple cider vinegar and honey as the base to prioritize wholesome, local, seasonal ingredients and calm stomachs. Interesting flavor combinations of herbs, fruits and roots create these balanced tonics.

Suggested Uses:
• Add 1 T - 2 oz shrub to sparkling water for a refreshing spritzer
• Muddle up 1/4 cup seasonal berries and pour into champagne flute. Add 1 Tablespoon to 1.5 oz shrub to
mixture and top with Brut champagne or dry sparkling cider (like Vista Ridge!) for a bright play on a Kir Royale.
• Combine equal parts shrub and water for a refreshing tonic
Included in this set: 2019 Vista Ridge, 2020 Vista Ridge, Blackberry Sage shrub
*note - pictured shrub is Ginger Turmeric, we are receiving the fresh batch of the Blackberry Shrub soon!
Enjoy this local Quilcene-made set!