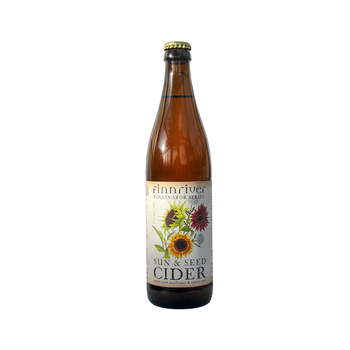 Sun & Seed 500ml
STYLE: Botanical Infusion
AROMA & FLAVOR: Classic cider aromatics, earthy wine-like and slightly of yeast in the nose. Rustic apple with acid to hit the cheeks. Finish of toasted nut, outbreath of aromatic carrot, raw sunflower, and pithy apple tannins.
APPLE & FRUIT VARIETIES: Fermented on the farm with a select blend of Certified Organic Washington apples.
CIDERMAKER NOTES: This infusion is a tribute to the harvest of seed to make more fruit. We toasted the sunflower seeds on a sheet pan in the pizza oven at the home farm, allowing the dark seeds to bleed their color into the cider providing an unexpected blush of color. The sensations from the carrots are both bitter and sweet in the breath. Crisp, earthy, nutty, gentle. Quite delighted with the outcome.
SERVING SUGGESTIONS: A good balance to bitter and acid so pair with summer greens, grilled asparagus, grilled salmon sandwiches, all things with mustard on them. Dreamy with thin crust pizza, and quite a nice complement to grilled oysters with spicy mignonette.
SWEETNESS: 1.002 dry
ALCOHOL PERCENTAGE: 6.5% abv
BOTTLE VOLUME: 500 ml. (16.9 oz.)
ARTWORK: Tassie Ryland