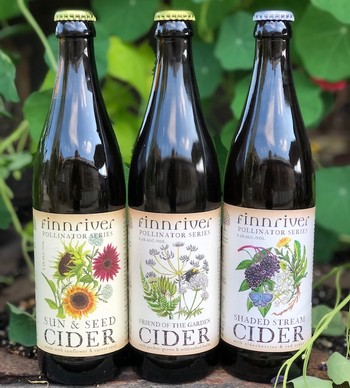 Summer Pollinator set
These three pollinator bottles represent so many interesting conversations for your table. Each of the bottles is a story of land and partnership and creativity:
Sun & Seed, made with seeds from the Organic Seed Alliance and their work here at the Finnriver Orchard.
Shaded Stream, our cidermakers tribute to the stream side rehabilitation that the North Olympic Salmon Coalition does throughout this region.
Friend of the Garden, a wild botanical cider speaking to the myriad useful herbs that the Friends of the Trees grows and processes here in Chimacum as a component of the broadscale earth repair work that they do.
All these - and more - on a farm in Chimacum, WA. Our cider is a springboard, a delightful way to spark conversation, build community, and cross-pollinate. These thoughtful botanical ciders speak each in turn to the delights of the plant kingdom that our wonderful land partners raise cherish and respect.
May your pollination be fruitful!