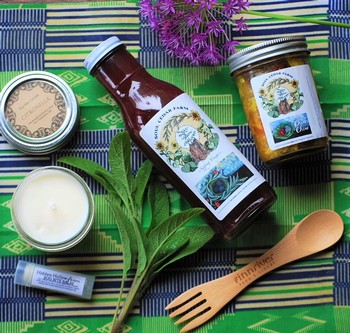 Summer Pantry Gift Set
Summer Seasonal Pantry Package
This collection of locally made goods is inspired by the joy of outdoor summer adventures on the wild Olympic
Peninsula! Whether you are out for a summer picnic, camping trip or just enjoying the back porch or backyard, all of the goods in this package are made for savoring this season. Here's to getting out there:
Soy Candle Citronella by Bunny's Bath
Keep the bugs away as you enjoy the outdoors this summer with this hand-poured premium soy wax candle. Bunny's Bath makes natural handmade soap and skincare products. They carefully choose the plant-based oils and other ingredients that go into our soaps, lotions, face care and more, and avoid the use of synthetic materials to keep our products pure and simple. All their candles are hand-poured in small batches, and made with premium essential oils and / or phthalate-free fragrance oil blends. Shop their whole collection and learn more at bunnysbath.com
Bug Bite Balm by Hidden Hollow Farm
Bug bites getting you down this summer? Bug Bite Balm to the rescue! Using natural ingredients you can
soothe those itchy bumps and stop the scratching. Made from natural ingredients, many wild-harvested in the PNW: Infused coconut oil with peppermint, lavender, chickweed, lemon balm, dandelion, hyssop, shea butter, beeswax and pure essential oils. Visit their store to see many more amazing handmade body care products: etsy.com/shop/hiddenhollowfarmusa
Blackberry Sage Shrub 'Sipping Vinegar Elixir' by SoulCedar Farm
A healthy, versatile sipping vinegar, SoulCedar shrubs use apple cider vinegar and honey as the base to prioritize
wholesome, local ingredients and to calm stomachs. Interesting flavor combinations of herbs, fruits and roots are
combined to create these balanced tonics, great in a variety or beverages or as a unique marinade or salad dressing.
Suggested Uses:
• Add 1 T - 2 oz shrub to sparkling water for a refreshing spritzer
• Muddle up 1/4 cup seasonal berries and pour into champagne flute. Add 1 Tablespoon to 1.5 oz shrub to
mixture and top with Brut champagne or dry sparkling cider for a bright play on a Kir Royale.
• Combine equal parts shrub and water for a refreshing tonic
Chow Chow by Soul Cedar Farm
Chow chow is a sweet, tangy, bread-and-butter style cabbage relish; a delicious southern garnish, with regional
variations and unique family recipes. Keep it simple and enjoy Chow chow with your favorite cheese and crackers, or bring it to a barbecue and add some zest to your choice of grilled goodies. Pulled pork, brisket and marinated
mushrooms are all excellent chow chow companions.
SoulCedar Farm is a small scale, holistic farm located in Quilcene, Washington. Sage Coy and Max Evans, couple
and co-owners, believe in the importance of nourishing food and of reciprocal relationships between people, plants and land. Sage and Max grow as much produce for their canned products as possible, and hope to minimize food waste by connecting with other small Olympic Peninsula farms for the rest. Visit soulcedarfarm.com to learn more.

Sammie Wrap by Live Light
Wrap up your next sandwich in this colorful and reusable beeswax coated cotton - and say goodbye to single-use
packaging. Fun assortment of patterned fabric in a 12" square; seals with the heat of your hand and cleans with soap and water. Live Light is owned by Jacqueline Carpenter-Swenson who has been crafting and discovering since 2011 the peaceful nature of working with beeswax. The beeswax is all domestically sourced, from Sequim, WA, Tonasket, WA and North Dakota.
More beeswax goodies available at shop.finnriver.com/products/brand/Live-Light-Beeswax-Candles
Finnriver Bamboo Spork
Our bamboo spork is just the right size (7" to be exact) for a take-along, plastic-saving utensil. Unlike other styles this is a fully functional travel fork or spoon. So rejoice in not needing to waste a single use one ever again!
Stainless Steel Water Bottle by MiiR
This 20oz, BPA free, medical grade stainless steel water bottle doesn't transfer flavor has no metal aftertaste. Plus it comes already decked out in our very own super durable Finnriver apple sticker! Wherever you roam you will be ready to hydrate. Every product by Seattle based MiiR funds a trackable giving project.
Learn more at miir.com/pages/givecode
You can also learn more on our Pantry page at: www.shop.finnriver.com/Pantry/Meet-the-Makers.