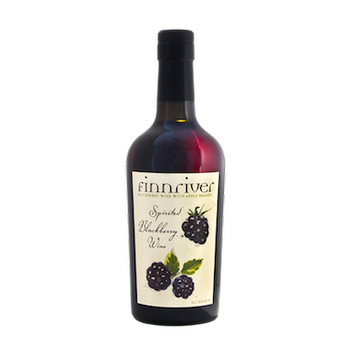 Spirited Blackberry Wine
STYLE: Port-Style Spirited Wine
AROMA & FLAVOR: Deep blackberry nose with an oak barrel profile and warming brandy heat with gentle oxidation to deliver the port style.
BLACKBERRY VARIETIES: Organic Washington Blackberries (mixed varieties).
CIDERMAKER NOTES: Made in a port style; we ferment whole berries, digested by enzyme action to yield their juice. The wine is then settled and filtered, oaked with a medium toast spiral and then fortified with our custom-distilled apple brandy, produced for us at Admiralty.
SERVING SUGGESTIONS: Serve at room temp in a port glass as a digestif or after-dinner wine. Lovely with a salad in the first course, as a sipping wine with oatmeal raisin cookies or biscotti. Warming treat on a snowy winter sleigh ride or perfect to linger with while stargazing in the late summer.
SWEETNESS: Sweet but not wholly dessert.
ALCOHOL PERCENTAGE: 18.5% abv.
BOTTLE VOLUME: 500 ml. (16.9 oz.)
ARTWORK: Anna Daeuble