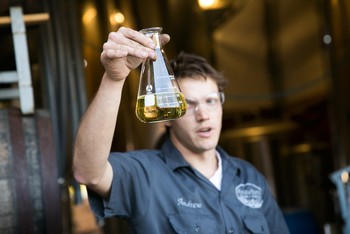 SOUR HOUR WITH CIDERMAKER ANDREW BYERS, Sunday April 18th 2-3pm
Join Finnriver head cidermaker, Andrew Byers, for a foray into the fabulous realm of sour fermentation! This guided tasting session is offered exclusively to Finnriver Club members to give you a chance to listen to Andrew describe the approach, process and outcomes of his Sour Cider adventures. The one hour guided tasting provides one flight per club membership, which can be shared with your +1. Additional sour flights may be purchased with your discount.
*This offer is expected to sell out quick. We recommend you reserve your table as soon as possible, and would love for you to fill your 2 or 4 person table with family or friends to maximize our limited seating restrictions.
UPDATE: Event is SOLD OUT
Andrew has a background in botany and culinary arts as well as over 10 years in cider orcharding and production. He is an ardent plant-lover, apple presser, yeast pitcher and all-around renowned crafter of award-wining and much enjoyed ciders!
This guided tasting will take place at spaced out tables in our Hay Barn, with barn doors open wide and covid considerations in place. Reserve by table for groups of 2 or 4. One complimentary flight per club membership with limited seating, $20 per flight for non-club members.
In order to reserve your table, we ask for a refundable deposit of $20 (that can go directly to a tasting flight for your friend or family member). You will need to sign into your account to make this reservation, as it's restricted for

club members only

.
Sign up by Friday, April 16th to reserve your spot! Walk-ins will be welcome, if additional space is available.