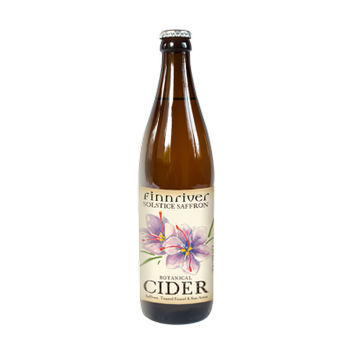 Solstice Saffron 500ml
STYLE: Botanical Craft Cider
AROMA & FLAVOR: Saffron grown by Golden Tradition Saffron in North Plains, OR gives this cider its warm color and a gentle bittersweet earthiness, balanced with the rounded flavors of anise and fennel, finishing on a light lingering licorice note.
APPLE VARIETIES: Fermented on the farm with a select blend of Certified Organic Washington apples, such as Granny Smith, Pink Lady, Braeburn and Gala.
AWARDS: 2017 Best in Class Gold Medal, Glintcap
CIDERMAKER NOTES: Our seasonal ciders share the earthly essence of life in the fields and gardens of the Olympic Peninsula. We crafted this cider around the time of the Winter Solstice, inspired by the local saffron grown at Phocas Farms in Port Angeles. Saffron is considered one of the world's most rare and costly spices and was first cultivated in Greece. The bright cider features fermented organic apples, delicately steeped toasted fennel and organic anise pods. Lightly carbonated. Made without gluten ingredients.
SERVING SUGGESTIONS: Serve chilled in a white wine glass or as you wish. Pair this cider with minty rice, sushi, summer salads with edible flowers or lightly braised vegetables, or with a range of Mediterranean or Indian foods, make a Solstice Saffron granita!
SWEETNESS: Semi-sweet
ALCOHOL PERCENTAGE: 6.5% abv
BOTTLE VOLUME: 500 ml. (16.9 oz.)
ARTWORK: Anna Daeuble