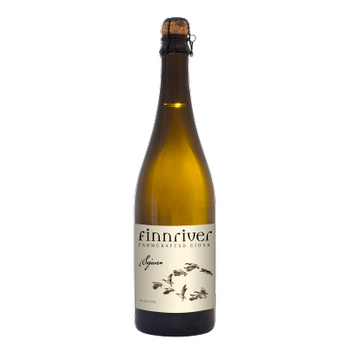 Sojourn - Heart Of Gold 750ml
STYLE: Bottle-conditioned, sparkling apple cider
AROMA & FLAVOR: Aromas of pears and white wine, with a bit of cucumber and grapefruit rind. This cider hits the pallet with flowing acidity around the mouth and a background of earthy bitters for balance. Clean and crisp with a lingering pithy finish.
APPLE VARIETIES: Finnriver organically-grown varieties including: Golden Russet, Ashmead's Kernal, Karmijn de Sonneville, Belle de Boskoop and Claygate Pearmain; along with organic Golden Russet apples from an orchard partner in Ashland, Oregon.
CIDERMAKER NOTES: The Heart of Gold is a special 2018-harvest variation of our annual 'Orchard Series' Golden Russet Cider – bottle-conditioned to a fine bubble. We made an intentional effort to mature this cider as one would a high-acid table wine. The resulting cider is estery– meaning the acid notes are melded into alcohol to develop a smooth body with complex aromatics. Three different yeasts, fermented separately, aged together for 8 months for a balance of aromatics and acidity.
SERVING SUGGESTIONS: Perfect for any celebration or toasting occasion! Pour into a flute for an elegant champagne alternative, or bring to a winter gathering and pair with cured sausages, smoked cheeses and dried apricots.
SWEETNESS: Dry, S.G.1.004
ALCOHOL PERCENTAGE: 8.5% abv
BOTTLE VOLUME: 750 ml, 20L keg
VINTAGE: 2019 harvest
RELEASE DATE: December, 2020