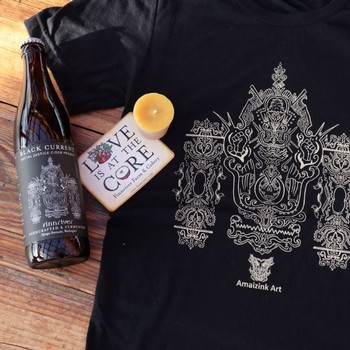 Social Justice Cider Set
$44.99
We're bringing this set together to help support social justice consciousness and efforts! This set includes our Love is at the Core sticker, a hand poured beeswax candle by Live Light, a t-shirt with art by Amaizink Art and a bottle of Black Current Cider, our best-selling contemporary cider, relabeled and re-released as part of a project to generate awareness and support for social justice. We loved the label art so much we made a t-shirt with the same image, designed by local artist Maiz, whose work you can learn more about at www.amaizinkart.com

The Social Justice Cider project generates $2 per bottle for featured grass-roots BIPOC organizations working for justice, healing and liberation in our region. Proceeds from the sale of the T-shirts will directly to benefit the artist, as well as contributing to an Artists of Color fellowship fund.

T-Shirt Info: Polyester/Rayon/Cotton Blend

XSmall (chest 15" length 24.5")
Small (chest 16" length 27")
Medium (chest 18" length 27.5")
Large (chest 19.5" length 29")
XLarge (chest 23" length 29.5")
XXLarge (chest 26" length 32")

*Select the size you desire from the drop down list.