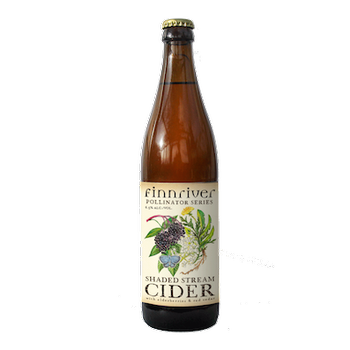 Shaded Stream 500ml
STYLE: Wood aged, botanical.
AROMA & FLAVOR: Smells of barrel and graphite and nectar, mingled with vinous overtones of mature cider. Sharp on the palate initially and rounded by the wild blue elderberry. Fruity, woody, and smooth.
APPLE VARIETIES: Select blend of Washington Certified Organic apples.
CIDERMAKER NOTES: This cider is part of our "Pollinator Series," honoring our partnerships with local organizations who share a commitment to the land that sustains us. The Shaded Stream highlights the mission of the North Olympic Salmon Coalition, which works to maintain healthy salmon habitats in our region. We aimed to invoke the riparian flavor of a shaded creek. This cider aged on Western Red Cedar staves for two months, and was then infused with blue and black elderberries and elder flowers. Tree, flower, and fruit fermented together to celebrate healthy streams.
SERVING SUGGESTIONS: : Enjoy at a creekside picnic, with soft cheeses, charcuterie, olives and hummus. Or at the dinner table with polenta, ratatouille and a roasted chicken. Drink this cider and think about restoring habitat, any habitat! Learn more about NOSC at: https:// nosc.org
SWEETNESS: s.g. 1.006 semi sweet
ALCOHOL PERCENTAGE: 6.5% abv
PACKAGE VOLUME: 12 X 500 ml. (16.9 oz.)
ARTWORK: Kira Mardikes