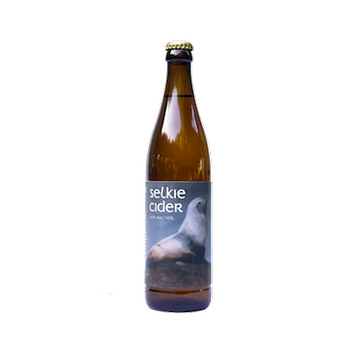 Selkie 500ml
STYLE: Barrel-aged Contemporary Cider
AROMA AND FLAVOR: Deep aromatics of oak and whiskey. Bright acidity hits the palate first followed by the wandering spirited toast notes. Smooth and full bodied.
APPLE VARIETIES: Organic Washington Granny Smith & Pink Lady.
FROM THE LABEL: For over 100 years, guests at Alderbrook Resort & Spa have marveled at the playful seals that grace our dock and waters. Scottish folklore calls these aquatic guests 'Selkies,' who live in the sea at night and then shed their skins to walk the shore by day. We invite you to drink in the beauty of the Hood Canal with this bottle of oak-aged sparkling cider, made with a select blend of organic Washington apples by our friends at Finnriver. Let's raise a glass to the selkies among us!
CIDERMAKER NOTES: Fermented clean and crisp, then filtered and barreled in former whiskey barrels - some from High West, some from Woodinville Whiskey. After 15 weeks in the barrel we blend the batch, add organic cane sugar and bottle. 200 gallon batches are crafted exclusively for Alderbrook. We work with this cider to produce a more robust barrel profile than many other ciders here at Finnriver. The beauty to us is the way that sugar calls out the depth of the whisky-caramel-oak combination. So we choose the barrels with care, leave them an extra week or two as needed. There is definitely a hearty undertone, a leathery edge.
ALCOHOL PERCENTAGE: 6.5% abv
SWEETNESS: 1.007 S.G. points. Off dry to semi-sweet
BOTTLE VOLUME: 500 ml