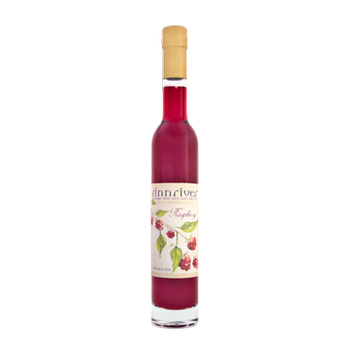 Raspberry Brandywine 375ml
STYLE: Brandy Dessert Wine
AROMA & FLAVOR: Ripe, red raspberry swirls into the brandy vapors and offers a clean delivery of the summer's fresh harvest. Flavor spreads across the palate. A little tart, a little sweet, a little amazing.
FRUIT VARIETIES: Organic Washington apples and raspberries.
CIDERMAKER NOTES: The whole fruit raspberries are digested by pectic enzymes and the resulting mash is lightly fermented. Fermentation is halted by the addition of apple brandy, custom-distilled for Finnriver by Admiralty. Back sweetened to taste.
SERVING SUGGESTIONS: Just a few ounces at room temperature in an elegant cordial glass. Delightful drizzled on ice cream or baked into a sumptuous dessert. Add to a vinaigrette for a succulent salad dressing. Add a dash to a dry sparkling cider for a romantic "Love & Bubbles" cocktail.
SWEETNESS: Sweet Dessert Wine
ALCOHOL PERCENTAGE: 18.5% abv
BOTTLE VOLUME: 375 ml.
ARTWORK: Anna Daeuble