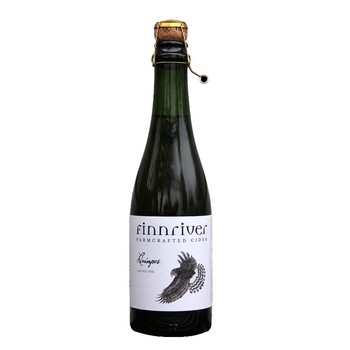 Quimper 375ml
STYLE: French, Keeved
AROMA & FLAVOR: The cider spills into your senses with sweet apple pie, a touch of wet haybale, tannic horse leather and hot baking spices. With texture that holds your attention well into the final out-breaths.
APPLES: Finnriver organic bittersweets: Dabinette, Brown Snout, Yarlington Mill, Chisel Jersey. Sharp varieties: Ashmead's Kernel, Karmijn de Sonneville.
CIDERMAKER NOTES: A labor intensive cider project took lots of care and attention throughout the year. From a journey to France to study 'keeving' techniques, to a slow fermentation in our barn, to gradual bottle conditioning for a natural carbonation, we have ushered this thoughtfully into the bottle. An impassioned effort to explore a traditional technique and a luscious expression of our apples.
LABEL ART: Illustration by Sarah Peller of a Marsh Hawk, or Northern Harrier. Noticeable in our orchard since it tends to soar low over the trees on wings held at a slight upward angle. Our Orchard Series ciders all feature birds we see on the farm, to honor their vital presence on the land and to celebrate our 'flights of fermentation.'
SERVING SUGGESTIONS: Serve with rich and creamy cheeses, savory crepes, butter and crusty bread. Enjoy alongside the Eiffel Tower or standing in your vegetable garden anywhere in the world.
SWEETNESS: s.g. 1.006- semi dry
ALCOHOL PERCENTAGE: 5.4%
BOTTLE VOLUME: 375ml
VINTAGE: 2021
ARTWORK: Sarah Peller
Cider Specs
Varietal
Cidermaker Series