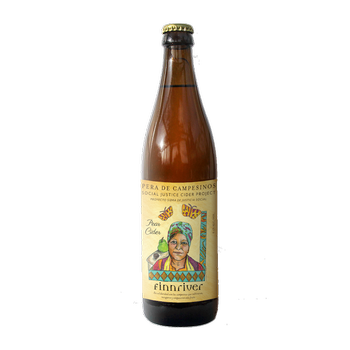 Pera de Campesinos 500ml
*please read this news release to learn more about this project
STYLE: Farmworker Pear / Social Justice Cider Project
FLAVOR: Bright apple fruit with the elegant sweetness and subtle delights of the pear. A tree-ripened delicate and refreshing taste of the orchard.
PURPOSE: The Social Justice Cider Project is an effort to shift energy towards greater equity and justice in our society by raising awareness of BIPOC (Black, Indigenous, People of Color) projects working for positive transformations in our region, and by sharing resources with groups doing this vital work. We decided to re- release our classic Pear Cider with a new, bilingual label to honor the often invisible and unappreciated lives and work of the farmworkers who picked, packed and processed the fruit that made this cider possible.
HOW IT WORKS: As part of Finnriver's Social Justice Cider Project, $2 from each bottle of Pera de Campesinos sold will go to a community organization working for a more equitable food system. Our first two partner organizations are Community to Community in Bellingham, Washington, a women-led grassroots organization dedicated to food sovereignty and immigrant rights, and Jefferson County Immigrant Rights Advocates in Port Townsend, Washington, which supports the rights of immigrants and their families, giving priority to those who live or work on the Olympic Peninsula and immigrant detainees within Washington State.
ARTIST: Sara Ybarra Lopez website - carapacearts.com
*since this bottle is part of a donation-based project, discounts will not be applied.