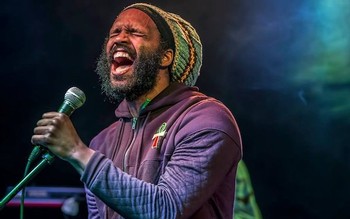 Orchard Vibrations - Laborer - Reggae, Sunday August 8th 5-7pm
Reggae
LABORER is a Reggae Artist Hailing from Tacoma, Washington. He has been touching stages with live performances of a soul full nature deeply Inspired and inspirited lyrics; set both to ballads and to the uplifting conscious sounds of steppers and one drop rhythm grooves for over 10 years. Laborer started performing live in early 2005 and has been blessed to continue his musical Revival thru ought the pacific northwest since that time.
You can reserve a 4-top ($30) or a 5-top ($35) table. ('Top' refers to number of people per table).
Any special seating requests? Please click the checkbox "Add special instructions" upon checkout and add your preferred seating location or other information you'd like to relay.
*We have added some additional "day of" seating at or near the Pavilion for a $5 cover charge per person. Also, there is free walk-in seating in our yard area on a first-come, first-served basis.
The Finnriver Cider Garden is open Thursday through Sundays — 12 to 9pm— with farmcrafted hard cider on draft and non-alcoholic options available in our Tap Room, and guided tastings and orchard tours on weekend afternoons. We also sell bottles to take home and you can visit our Farmware Store for artfully crafted local goods.
(Our Bottle Shop is also open Wednesday afternoons 12-6pm)
We offer our Picnic Pantry menu on Thursdays and the Finnriver Kitchen serves seasonally-inspired, locally-sourced foods from 12-8pm Friday-Sunday. Dented Buoy bakes up Woodfired Pizza on Friday-Sunday from 12-7:30pm.
We've missed having musicians here so much and are delighted to welcome back the good cheer, cultural creativity and vital human energy of live music!
Join Laborer on Sunday, August 8th from 5-7pm
Please note:
Cancellation policy - for a full refund, please request cancellation to

orders@finnriver.com

by Sunday 10am.
Special requests? Please click the checkbox "Add special instructions" upon checkout.
If a pre-purchased table is empty 30 minutes after the event has started, Finnriver has the right to resell the table to another person/group.
Weather permitting, we welcome walk-ins at our yard seating at no cost.