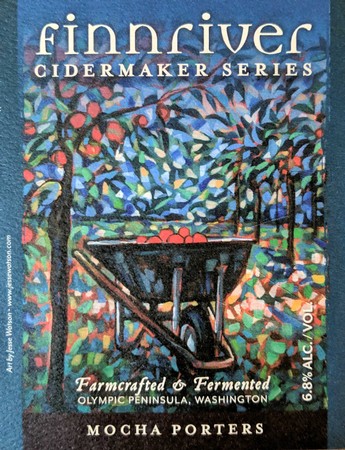 Mocha Porters 500ml
STYLE: Single Porter's Perfection Varietal Cider, aged on Mocha Toasted Oak chips and Cacao hulls
AROMA & FLAVOR: A tart nose with a nutty back drop of stone fruit, smooth as you begin. The Acid pops from the bitter sharp apple, backed up with full bodied texture as the fruity mélange of caramelized toasty oak, plays into stone fruit (read Cherry) finish of cacao.
APPLE VARIETIES: Porter's Perfection
CIDERMAKER NOTES: A single varietal fermentation of a bitter sharp apple, this cider is busy. We aged on a highly toasted oak chip (Mocha toast) which pulls notes of cherry, vanilla and chocolate… to which we responded… How about some cacao hulls to push a little bitter balance against the acid and vanilla of the oaked cider. The result is… well… full. Full of fruit, full of smoke and wood.
SERVING SUGGESTIONS: Chilled, with roasted poultry, wood fired pizzas, and sharper aged cheeses like cheddar or a smoked gouda.
SWEETNESS: S.G.1.002 off dry
ALCOHOL PERCENTAGE: 6.8%
BOTTLE VOLUME: 500 ml. (16.9 oz.)
VINTAGE: 2022
ARTWORK: Jesse Watson
Cider Specs
Varietal
Cidermaker Series