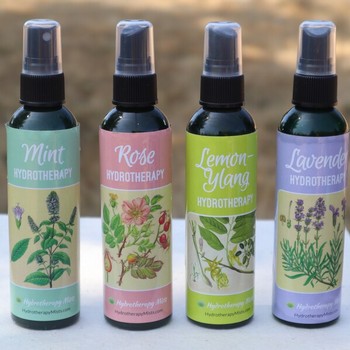 Mountain Spirit Hydrotherapy
$16
Hydrotherapy has been successfully used throughout history to cure, refresh and sanitize the human body. Our hydrotherapy products are made with the most wholesome ingredients sourced from sustainable farms and harvested with your well-being in mind.
Hydrotherapy Mists have multiple benefits including use as aromatherapy for your massage studio, office, bathroom, kitchen, car, boat or the places your pets spend the most time, as well as many other uses or applications as you can possibly imagine.
Our Hydrotherapy Mists invigorate the body and senses, while leaving a clean refreshing after effect.

Spray anytime, anywhere ... face, body or hair. Safe for children, animals, and your environment.

Aromatherapy for your massage studio, bedroom, office, bathroom, kitchen, car, boat and places your pets frequent.

No animal testing

Vegan

Handcrafted in Port Townsend, Washington by Mountain Spirit LLC

Choice of Mint, Lavender, Rose, Lemon-Ylang, and Amber.
*Select your scent before adding to cart