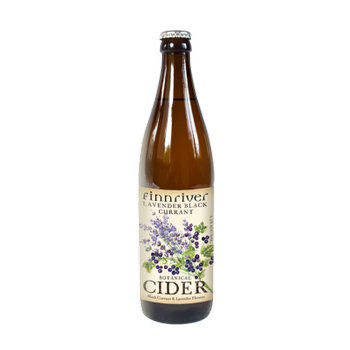 Lavender Black Currant 500ml
STYLE: Botanical Craft Cider
AROMA & FLAVOR: Bright apple fruit balanced by berry complexity and the rich, floral depth of local, organic Royal Velvet lavender. Notes of purple and chocolate.
APPLE VARIETIES: Fermented on the farm with a select blend of Certified Organic Washington apples, featuring seasonal varieties such as Granny Smith, Pink Lady, Braeburn & Gala.
CIDERMAKER NOTES: Our botanical ciders share the earthy essence of life in the fields and forests of the Olympic Peninsula. Small batch seasonal production features cider fermented on the farm, blended cider with organic black currant, and then steeped with organic lavender flowers sourced from local farms (Jardin de Soleil and Wilderbee Farms) A final addition of unrefined organic cane sugar adds depth, sweetness and flavor. Lightly carbonated. Made without gluten ingredients.
SERVING SUGGESTIONS: Serve chilled. Lovely paired with summer salads, fragrant cheeses and decadent chocolate desserts. Gorgeous in the glass, this cider evokes summer's bounty. Add ice to a glass on a hot afternoon, or serve with ice cream after dinner.
SWEETNESS: Semi-sweet
ALCOHOL PERCENTAGE: 6.5% abv.
BOTTLE VOLUME: 500 ml. (16.9 oz.)
ARTWORK: Anna Daeuble