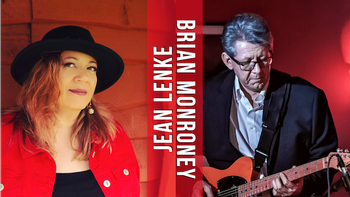 Jean Lenke & Brian Monroney - Acoustic Jazz-Folk, Friday May 21st 6-8pm
Acoustic Jazz-Folk
Please join local Jazz-Folk singer Jean Lenke & Seattle guitarist Brian Monroney for an evening of delightfully diverse music! Earlier this year Jean began working with Brian and others on her 2nd album, The Sea The Sky, which creatively straddles the Jazz & Folk genres, tributing some of Jean's favorite artists to include Joni Mitchel, Abbey Lincoln, Sandy Denny, Richie Havens & more. Work on the album will continue through the summer and will be released sometime in 2022 but if we are lucky, perhaps they will share sneak peak at this show!
As a performing artist, composer, lyricist, arranger and bandleader Jean Lenke artfully blends the joy of her parent's 30's & 40's Classics Jazz with the free spirit of the 60's & 70's Folk & Jazz-Rock Fusion soundtracks of her own youth. Jean's fresh take, smooth and soulful vocals, result in a unique presentation - familiar, yet slightly off-center, with a haunting appeal.
Seattle guitarist Brian Monroney has performed and/or recorded with many artists including Tom Jones, Natalie Cole, Gloria Estefan, Wayman Tisdale, Ilan Chester, Paul Taylor, Nelson Rangell and Lee Oskar. He has performed for audiences of all sizes worldwide, from small clubs up to festival crowds of over 50,000, and worked as a session musician in Los Angeles, Miami, Denver and Seattle. In addition to work as guitarist, Brian's original music has appeared in TV and other media including The Big Bang Theory, Ellen, TMZ, Modern Marvels, Muzak, and Lifetime. Is creativity and musicianship is beyond compare!
You can reserve a 3-top ($20), a 5-top ($35), or a 6-top ($40) table. ('Top' refers to number of people per table). Note that the Phase 3 guidelines now in effect do not limit the number of households that can be represented at an individual table.
UPDATE: Event is SOLD OUT
We have missed having musicians here so much and are delighted to welcome back the good cheer, cultural creativity and vital human energy of live music!
Join the Jean and Brian on Friday, May 21st from 6-8pm
Please note:
Cancellation policy - for a full refund, please request cancellation to

orders@finnriver.com

by Friday 10am.
Special requests? Please click the checkbox "Add special instructions" upon checkout.
If a pre-purchased table is empty 30 minutes after the event has started, Finnriver has the right to resell the table to another person/group.
Weather permitting, we welcome walk-ins at our yard seating at no cost.