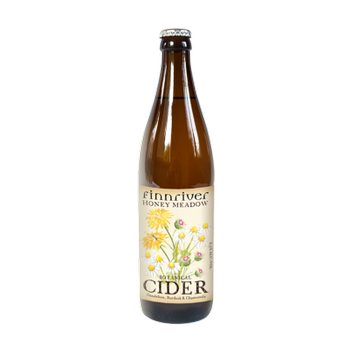 Honey Meadow 500ml
STYLE: Botanical Craft Cider
AROMA & FLAVOR: This floral, earthy nectar sips like a fine, fermented spring tonic. Distinct floral notes with wandering hints of greenery. Light and crisp, herbal body with notes of artichoke and earth, and finishing with honeyed out-breath and a cream soda sprig of chamomile.
APPLE VARIETIES: Fermented on the farm with a select blend of Certified Organic Washington apples, organic Midori Farm burdock root, organic dandelion root, organic Finnriver lemon balm, organic chamomile blossom and Sequim Bee Farm blackberry honey. Sequim Bee Farm is a fellow multiple Good Food award recipient.
CIDERMAKER NOTES: Honey Meadow speaks directly to the roots, shoots, and blooms of Spring on the Olympic Peninsula. Locally harvested burdock and dandelion roots are dried and roasted in the farm's wood-fired oven and then boiled into a house-made syrup. The roots balance the acidity with their earthy depth and nutty notes and then we add honey to add the floral and herbs to honor the season. Lightly carbonated. Made without gluten ingredients.
SERVING SUGGESTIONS: Serve chilled in a white wine glass or as you wish. Pair this sweeter cider with rich brunch fare and creamy cheeses, fungal quiches or a Monte Christo. Use the Honey Meadow cider in a salad vinaigrette or in a cocktail with vodka and mint ice cubes.
SWEETNESS: Semi-sweet
ALCOHOL PERCENTAGE: 6.5% abv.
BOTTLE VOLUME: 500 ml. (16.9 oz.)
ARTWORK: Anna Daeuble