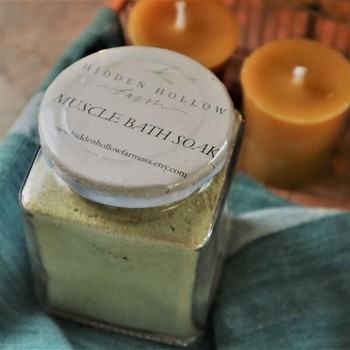 Hidden Hollow Muscle Soak
The warmth from this combination of salts and nutrient rich ground mustard and rosemary will ease muscle aches and congestion, and encourage circulation. Himalayan salts relax and heal damaged and cramped muscles and other soft tissue. Use as a whole body soak or a foot bath.

Ingredients: brassica alba (yellow mustard powder), Magnesium sulfate (Epsom salt), sodium bicarbonate (baking soda), rosemary, eucalyptus and pure Himalayan salt.