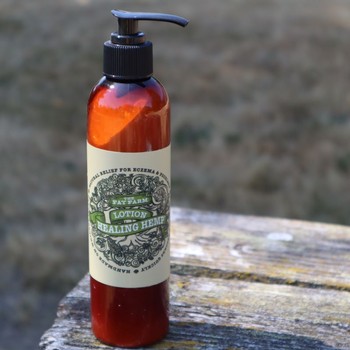 Fay Farm Healing Hemp Lotion
Based on the same nourishing oils, herbs and essential oils found in our Healing Hemp Salve, our Healing Hemp Lotion can be used all over the body and offers the same healing properties of the Salve without the greasiness. While at work or out and about, the Healing Hemp Lotion provides the moisturization needed in between Salve applications. Free of any harmful chemicals, such as parabens, phthalates, mineral oil and alcohol, our Healing Hemp Lotion feels gentle on the skin and soaks in quickly. It feels like mousse!
Just like our Healing Hemp Salve, our Healing Hemp Lotion provides relief for eczema, psoriasis, contact dermatitis, and other auto-immune skin disorders. Our Healing Hemp Lotion is also effective on burns, bug bites, athlete's foot, ringworm, and dry, damaged skin. Many of our customers use our Healing Hemp Lotion after applying our Healing Hemp Serum to their skin--to lock in the healing and have that great feeling!
Apply liberally on affected areas as needed for relief.