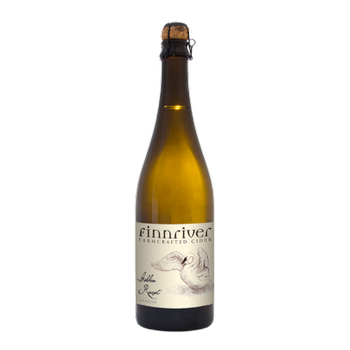 Golden Russet 750ml
STYLE: Bittersharp apple cider
AROMA & FLAVOR: Aromas of pears and white wine, a bit of cucumber and grapefruit rind. This cider hits the pallet with flowing acidity around the mouth with a background of earthy bitters to hold the acidity in check, clean and crisp with a lingering pithy finish.
APPLE VARIETIES: Finnriver grown, organic Golden Russet, Ashmeads Kernel, Karmijn de Sonnaville, Belle de Boskoop, Claygate Pearmain, plus some organic Golden Russet apples from Ashland, Oregon.
CIDERMAKER NOTES: Made strong and intentional efforts to mature this cider as one would a high acid table wine. The cider is estery- meaning the acid notes are melded into alcohol to develop a smooth body with difficult to name aromatics. Three different yeasts, fermented separately, aged as one for 8 months. The combination of the Oregon apples is new this year and brought a full presence of the "champagne apple" Golden Russet. Balancing that lovely acidity with the aromatics of the Finnriver antique fruit has culminated into a cider of we are proud of.
SERVING SUGGESTIONS: Pour into a flute for fun and a bit more to chew on than champagne, bring to a fall picnic and pair with cured sausages, smoked cheeses, dried apricots and a kiss from your sweetheart.
SWEETNESS: Semi-Dry S.G.1.008
ALCOHOL PERCENTAGE: 9.5% abv
BOTTLE VOLUME: 750 ml
ARTWORK: Cougar George
VINTAGE: 2018
RELEASE DATE: June 2019