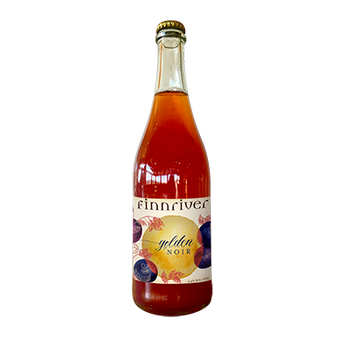 Golden Noir 750ml
Style – Rose cider
Aroma – cherries, cherry candy, and dark stone fruit on the nose with sharp acid and chewy tannins, a touch of fresh baked bread.
Apple – Finnriver's Golden Russet Cider, aged for 36 hours on gara noir grape skins from PT vineyards
Cidermaker Notes – this play of apple and grape is a stunning example of blended complexity, the high quality cider atop the freshly pressed skins bring a melding of flavor and aroma that elevate this hybrid wine. It is a delight to work with through the bottle conditioning process, as we watched the grape sugar ferment into an elegant mousse that is rarely achieved in cider alone. Hooray for the multitude of fruit!
Serving Suggestion – cold on a hot day, happy hour refreshment, with a California roll on the porch, or partner with more substantial fall meals of risotto, winter squashes, and roasted chicken; or those elusive non-tomato lasagnas, and the final fresh vegetables of the season.
Sweetness- Dry.
Alcohol Percentage – 9.2% abv.
Package Volume - 750ml.
Golden Russet Cider is an aromatic delight of citrus and melon, wine and earth. To this we added 3 days of companionable time with gara noir grape skins that came right out of the press at Port Townsend Vineyards. These dark reddish purple grape skins are full of pigment and tannins. The Golden Noir is the thoughtful blending of these two flourishes of the botanical world- the golden russet apple and the gara noir grape. Together they present a crisp bright sparkling rose of a cider. The Juicy grape skins added just enough sugar to the finished cider to create the champagne finish in each bottle individually, and the final cider is dry, sparkling with a delicate bubble, and delightfully tannic. Notes of cherries, cherry candy, and dark stone fruit on the nose, a dance of acids that lead you through notes of raspberry and baking bread to a dry and chewy finish.