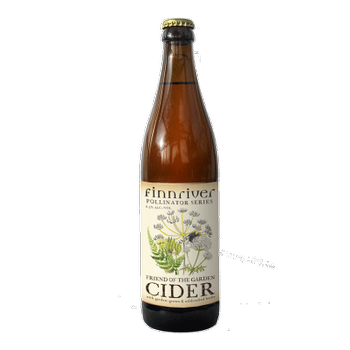 Friend of the Garden 500ml
STYLE: Botanical Cider
AROMA & FLAVOR: Cider and earth aromas linger with the undertones of herbal licorice. Edges of wine and rooty depth, and a finish of herbal delight that touches oven-roasted root vegetables.
APPLE VARIETIES & INGREDIENTS: A select blend of organic Washington apples and Sweet Sicily pods, Valerian root and wild harvest fennel seed.
CIDERMAKER NOTES: This special release cider celebrates one of our land partners here on our Chimacum farm, the Friends of the Trees—an alliance of farmers and activists who grow and propagate medicinal plants while also advocating for ecological agriculture and healthy natural systems. I selected herbal Sweet Sicily pods after watching my daughter devour them fresh off the plant. They bring a gentle and herbaceous anise profile while still leaving room for other complexities. Enter the Valerian root, with an earthy, warm and musty profile to complete the journey -- from deep roots through shoots and flowers to seed pods and fruit… a perfect 'Pollinator Series' addition. Long live the herb garden!
SERVING SUGGESTIONS: Enjoy with fresh goat cheese, stout crackers and spicy refrigerator pickles. Perfect for Dijon grilled chicken and a delight with Chana masala.
SWEETNESS: S.G. 1.008 semi sweet
ALCOHOL PERCENTAGE: 6.5% abv