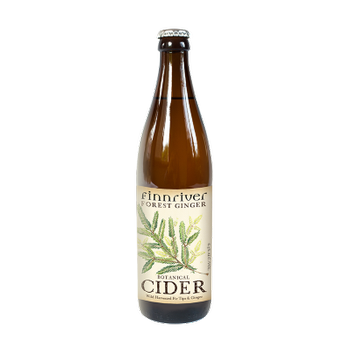 Forest Ginger 500ml
STYLE: Botanical Craft Cider
AROMA & FLAVOR: Bright apple fruit infused with the crisp, forest flavors of fir trees. Tangy, tree tones with warm spice from the ginger. Tastes like a walk in the woods on a sunny day!
APPLE VARIETIES: Fermented on the farm with a select blend of Certified Organic Washington apples, featuring seasonal varieties such as Granny Smith, Pink Lady, Braeburn & Gala.
CIDERMAKER NOTES: Our botanical ciders share the earthy essence of life in the fields and forests of the Olympic Peninsula. Small batch seasonal production features cider fermented to dry and then steeped with locally harvested Doug Fir tips and other evergreen needles. We then infuse with organic gingerroot and sweeten with unrefined organic cane sugar for added depth and balance. Lightly carbonated. Made without gluten ingredients.
SERVING SUGGESTIONS: Serve chilled. Lovely paired with fall foods such as roasted roots, mushroom risotto and hearty stews. Enjoy with an autumn sunset or a mountaintop vista.
SWEETNESS: Semi-sweet
ALCOHOL: 6.5% abv
BOTTLE VOLUME: 500ml (16.9 oz.)
ARTWORK: Anna Daeuble