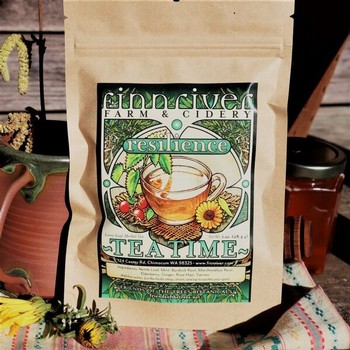 Finnriver Resilience Herbal Tea
This blend of herbs was carefully selected to support our ability to respond and recover from the strains and stresses of life. A delicious, nourishing blend of gently powerful plants! Add hot water, let the herbs steep and sip to soothe your spirit. Herbal Blend, made exclusively for Finnriver includes: Nettle leaf, Mint, Burdock Root, Marshmallow Root, Elderberry, Ginger, Rose Hips, Yarrow.
Grown with reverence and Nature's guidance by the gardeners at Friends of the Trees, with most of the herbs sourced from their organically grown and abundantly lush herb fields at Finnriver. Learn more about Friends of the Trees:
www.friendsofthetrees.net
1 oz of loose leaf tea
With gorgeous label art by Cougar George.