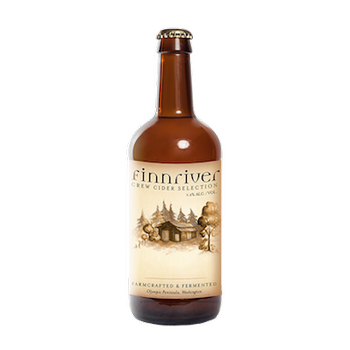 Finnflusse 500ml
STYLE: Berliner Weisse inspired cranberry cider
AROMA & FLAVOR: Light berry with fresh herbaceous vapors flowing through the cider. Sharp twang balanced against the dry bitter of the cranberry.
APPLE VARIETIES & FEATURED INGREDIENTS: A select blend of WA organic apples, organic cranberries from Starvation Alley Farms.
CIDERMAKER NOTES: This cider was inspired by the northern German beer style that encourages a lactic fermentation to bring about a sour, cloudy result. This cider is fermented and then aged with cranberry pomace, allowed to undergo malolactic fermentation-- a process in winemaking in which tart-tasting malic acid is converted to softer- tasting lactic acid. This cider features a sharp zing melded into the cranberry.
SERVING SUGGESTIONS: Sweet, creamy cheeses. A lovely gin companion (Gin Rickey, Pink G & T) and a delightful rum punch addition. Enjoy alongside grilled salmon, garlic fries, and blue cheese jalapeño peppers.
SWEETNESS: Dry S.G. 1.002
ALCOHOL PERCENTAGE: 6.5% abv.
PACKAGE VOLUME: 500 ml and 20 Liter Kegs