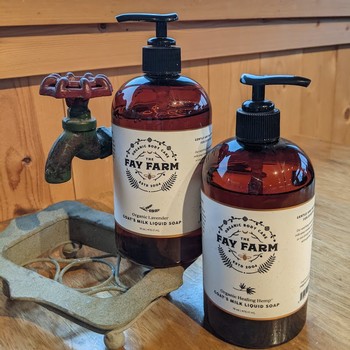 Fay Farm Liquid Goat Soap
$20
This liquid soap is made with fresh goat's milk, olive oil and shea butter. It makes a luxurious body wash or can simply be used at the sink for extra gentle, everyday use. Comes in a 16 oz. bottle.
Made with organic ingredients: Olive oil, organic coconut oil, purified water, organic hemp oil, organic castor oil, organic avocado oil, organic goat milk, organic unrefined shea butter, alkali, and essential oils.
*Select the scent you desire from the drop down list.
*Select scent before adding to cart