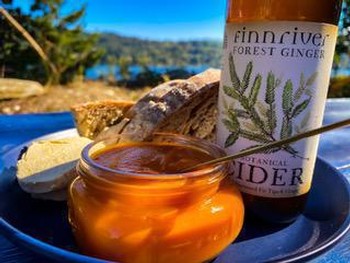 Farm Tour exclusive local pairing by Finnriver
(AVAILABLE FOR PICK-UP SEPTEMBER 18-20)
Finnriver Kitchen & Cider Pairing for Farm Tour:
We invite you to bring home a taste of Finnriver with a local pairing created to celebrate the Farm Tour and harvest season by Chef Brian!
What's on the menu: A 4 oz jar of local Fall Carrot Jam, Warm Spiced Butter and fresh Artisan Bread from White Lotus Bakery featuring Finnriver grains. Pairs with a bottle of our seasonal botanical cider, Forest Ginger. Forest Ginger is fermented to dry and then steeped with locally harvested Douglas Fir tips and other evergreen needles. It is then infused with organic ginger root and sweetened with unrefined organic cane sugar for added depth and balance. A fabulous Fall pairing with local roots.
Cost: $25
The Farm Tour pairing box will be available for pick up or can be enjoyed at the Cider Garden the weekend of Farm Tour, September 18-20th. 12-7pm.