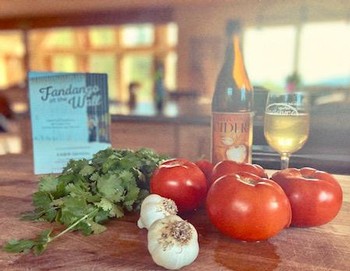 Fandango with Finnriver
(PRE-ORDER FOR TAKE-OUT HERE. AVAILABLE FOR PICK-UP 10/2-10/4)
Enjoy a '

Fandango with Finnriver' take-out dinner & package to enjoy as you view PTFF selection Fandango on the Wall!
Featuring a local, Seasonal Taco take-out meal from the Finnriver Kitchen that celebrates the cuisine of Veracruz, Mexico. With an herbed tomato based sauce and local farm-sourced vegetarian taco fillings, regionally produced artisan tortillas and a bottle of Finnriver Habanero cider. Includes a commemorative card for the film signed by the director, a copy of the Fandango on the Wall book and CD by co-producer and NY Times bestselling author Kabir Sehgal. Available for take-out on weekends during the festival.
Cost: $20-30 (dinner or dinner with book/cd/card - limited availability)
In Veracruz, Mexico, a fandango is a party where people get together to dance, to play and to sing in a community setting. As local musicians perform the Son Jarocho music, people dance "zapateado" atop a large wooden platform known as a Tarima.
This item is only available for purchase from the Finnriver takeout menu.