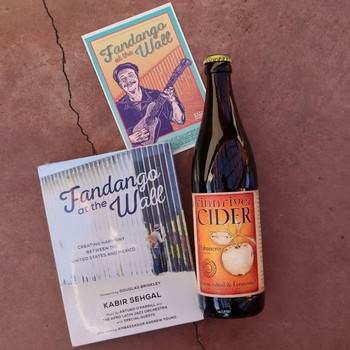 Fandango Gift Set
Enjoy a bottle of Finnriver Habanero cider as you view Port Townsend Film Festival 2020 film selection Fandango on the Wall, a movie directed by Finnriver co-founder's Crystie Kisler's sister Varda Bark-Kar — a story about music without borders.
Follow New York City maestro Arturo O'Farrill, Afro Latin Jazz Orchestra founder, to Veracruz, Mexico where he meets up with the masters of a 300-year-old folk music tradition called son jarocho and then joins them for a historical music festival called "Fandango Fronterizo" that takes place simultaneously on both sides of the United States-Mexico border.
Over 50 artists gathered at the Tijuana-San Diego border for a fandango— the team filmed a documentary, recorded an album, and wrote a book about the experience. In Veracruz, Mexico, a fandango is a party where people get together to dance, to play and to sing in a community setting. Learn more about the film at: www.fandangowall.com.
This set includes a commemorative card for the film signed by the director, a copy of the Fandango on the Wall book and CD by co-producer and NY Times bestselling author Kabir Sehgal.