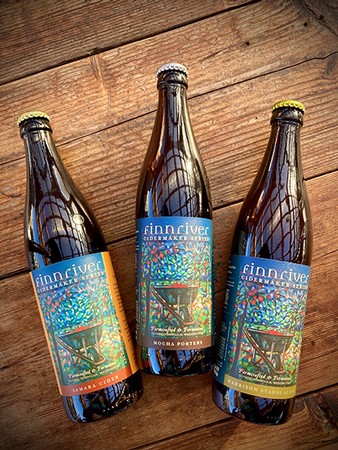 Cider Lover's Special Release Gift Set
Do you love the remarkable array of craft cider or do you know someone who does? Finnriver exults in the diversity of fermentations made possible by the fruit of the Earth! In order to channel our inspiration and creativity, we started the Cidermaker Series, featuring small batch cider projects that are responsive to the season, the offerings of the land and the delight of the cidermakers. These releases are small batch, and quite limited. We are pleased to offer this three-bottle gift set of the following:

Mocha Porters: A single varietal fermentation of a bitter sharp apple, Porter's Perfection, aged on mocha toasted oak chips and cacao hulls. The result is full of fruit and full of smoke and wood.
Harrison Stands Alone: This is a multi-fermentation of one apple variety, three tanks or batches each coaxed along with slight variation and then brought together to create complexity from a single origin point. Leading with pear drops and green apple aromas melding with a bit of chalk, the cider zings in acid and then quickly balances with a tannic undercurrent that leads into a thoughtful finish.

Samara Cider: Featuring the maple syrup harvested by our friends at Mack Maple Farms in Michigan, and matured in the barrel, this cider brings forth the sweetness of the sugar maple, the smokiness of the oak and the satisfaction of a glad heart and full belly. Made with a select blend of organic Washington apples and Mack's maple syrup, organic vanilla extract, organic fennel seed, and organic black pepper for full flavor.
Specially priced gift set; no further discounts apply