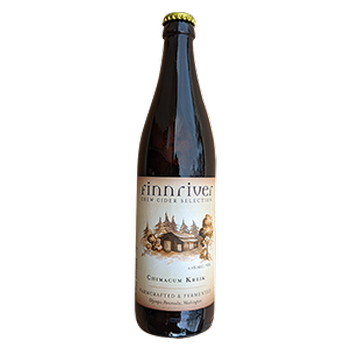 Chimacum Kriek 500ml
STYLE: Cidermaker Series
AROMA & FLAVOR: Dark red cherry on the nose, woody and a little musty. Smooth fruit, cherry and sweet plum. Substantial viscosity with a twanged finale coming from the life after the tree and the oxidized depth from the life before the ferment.
APPLE VARIETIES: Fermented on the farm with a select blend of Olympic Washington apples, and Tonnemaker Hill Farms organic dark cherries.
CIDERMAKER NOTES: We macerated, pressed, wild fermented, pitched brett, pitched pedio and then barreled the cherry juice for six months. Cider fermented in sour barrels with warm summer months to aid the bacteria and the alternative fermenters. These two then blended together to meld into this deepthinking cider of ancient roots, here from the land and there from the legends of fermentation. This bottle is also a tribute to the restoration of the creek that runs through both of the Finnriver locations, the water from this creek waters our orchard, this creek is in our apples.
SERVING SUGGESTIONS: Best with dry, salty cheeses or a snack of sweet potato fries. Try it with a walk by your local creek.
SWEETNESS: Semi-sweet, Brix 1.005
ALCOHOL PERCENTAGE: 6.5% abv.
BOTTLE VOLUME: 500 ml. (16.9 oz.)
Cider Specs
Varietal
CIdermaker Series