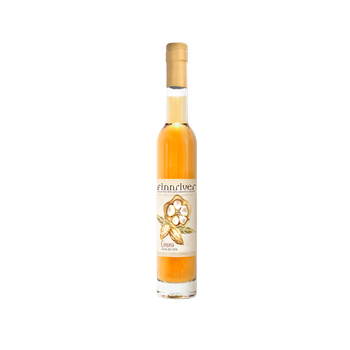 Cacao Brandywine 375ml
STYLE: Brandy Dessert Wine
AROMA & FLAVOR: A smooth blend of pear and apple brandy, with a robust delivery of bittersweet chocolate. Dark chocolate flavor travels the senses and lingers in the out breath, while apple brandy brings a bright warmth.
INGREDIENTS: Brandy is distilled from cider made with organic Washington dessert apples, primarily high-acid varieties such as heirloom Granny Smith. Infused with Cacao pods from the Cocoa Forge in Port Townsend.
CIDERMAKER NOTES: This is a fortified wine. The cacao extract is sweetened with pear juice then lightly fermented into a wine. Fermentation is then halted by the addition of Finnriver's custom-distilled apple brandy.
SERVING SUGGESTIONS: Serve by firelight or at sunset in a cordial glass, with and open heart and a desire to enjoy life.
SWEETNESS: Dessert Wine
ALCOHOL PERCENTAGE: 18.5% abv
BOTTLE VOLUME: 375ml
LABEL ARTIST: Anna Daeuble