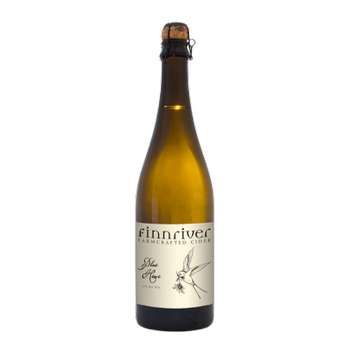 Blue Hewe 750ml
STYLE: Orchard Series
AROMA & FLAVOR: Smells of leather and tart fruit, hay bales and wine. Roving acids carry notes of sweet pear and caramel. Strikingly sharp, creamy texture and long in the finish.
APPLE & FRUIT VARIETIES: Finnriver grown organic Hewe's Virginia Crab, Williams Pride, and a touch of Finnriver grown Blueberry wine.
CIDERMAKER NOTES: This vintage is a significant deviation from previous years in that the blueberry harvest was much smaller - the blueberry wine component is tiny. With the lack of fruity acidity, the barrel aged crab apples are so intriguing. We chose to show off the tannins and the oak by bottle conditioning the cider - thereby serving it brut, bubbly, and direct. Not a sweet and intense cider this year but a dry and thoughtful exposé of Center Valley terrior.
SERVING SUGGESTIONS: Chilled, in a flute. With hors d'oeuvres, alongside early winter celebrations. Perfect for a toast, perfect for a holiday party.
SWEETNESS: S.G. 1.001 brut, bone dry
ALCOHOL PERCENTAGE: 9.5% abv
BOTTLE VOLUME: 750 ml.
VINTAGE: 2018
RELEASE DATE: Fall 2019
ARTWORK BY: Zelda Grimm