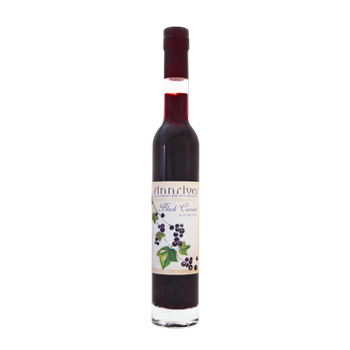 Black Currant Brandywine 375ml
STYLE: Brandy Dessert Wine
AROMA & FLAVOR: Bright apple brandy carries the earthy depth of the black currant. Sumptuous, thick, tart and full of rich, ripe flavor.
FRUIT VARIETIES: Brandy is distilled from cider made with organic Washington dessert apples, primarily high-acid varieties such as heirloom Granny Smith. Organic and/or regional black currants sourced.
CIDERMAKER NOTES: Lightly fermented Black Currant Wine captures the ripe intensity of the fruit. Fermentation is halted by the addition of apple brandy, custom-distilled for Finnriver by Admiralty. Back sweetened to taste.
SERVING SUGGESTIONS: A few ounces in a cordial cup, at room temperature, is a rich delight. Lovely paired with dessert or as dessert itself. Add a splash to sparkling cider or wine for a Kir Royale variation. Drizzle on ice cream, use in baking or mix in a vinaigrette.
SWEETNESS: Dessert Wine
ALCOHOL PERCENTAGE: 18.5% abv
BOTTLE VOLUME: 375 ml.
ARTWORK: Anna Daeuble