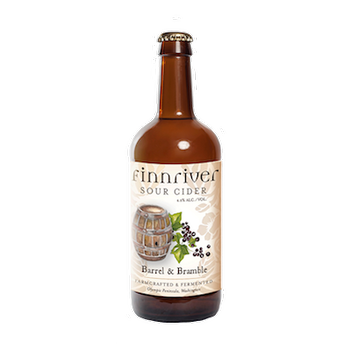 Barrel & Bramble 500ml
STYLE: Sour Cider
AROMA & FLAVOR: The cider smells sweet and floral, almost like nectar. In contrast the flavor is sharp, twanged sour, with bitter black currant notes, subtle tannins and aromas of deep summer
forest trails...and a leathery Brettanomyces finish.
APPLE & FRUIT VARIETIES: Fermented on the farm with a select blend of Certified Organic
Washington apples and organic black currant.
CIDERMAKER NOTES: The Barrel & Bramble is a Lambic style sour cider for which 6 barrels of cider were each fermented and soured slightly differently. This cider spent some time in the country and was left to ride in barrels outside of the barn for another 6 months, tugging the horse and leather notes from the ferment, while the acids married and esterified. All were blended together and then we added the organic black currant juice and let it all steep for 2 months to meld together, and then conditioned to a light sparkle. Some sediment remains from the process. Fermented with three strains of Brettanomyces yeast, then soured with Pediococcus and Lactobacillus and gently oaked.
SERVING SUGGESTIONS: Enjoy a chilled bottle down by the coast watching the early tide pull in (or fade out…depending); at the first barbeque of the year; with crisp vegetables, grilled salmon, or a blue cheese burger with onion rings; and any creamy, ripe cheeses.
SWEETNESS: S.G. 1.004 dry, fruit forward but not a sweet drinker
ALCOHOL PERCENTAGE: 6.5% abv
BOTTLE VOLUME: 500 ml. (16.9 oz.)
ARTWORK: Anna Daeuble